App from Electro House
Discover amazing world of electrical products with EH App
See the product catalog
Make orders
See the personal price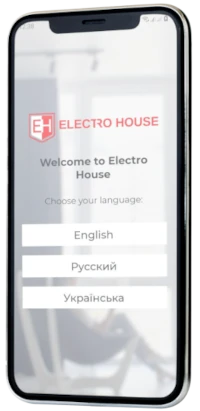 Our mission
The mission of the ElectroHouse company includes any help for customers to make their lives more comfortable and more safely for partners to discover new opportunities and help them become better in their field of the business, and provide employees with a platform for a self-realization, financial and personal growth.
Electrical accessories (household, industrial)
Ukraine's largest range of coaxial TV cables of its own brand
Professional FTP-UTP Cable
Many items of fittings and tools for self-supporting insulated wires (SSIW)
A huge range of materials for electrical installation
+
Over 700 types of products
+
Satisfied customers and reliable partners
Trademark registered in 10 countries.
We are already 14 years on the market
Company Creation
Company formation
Assortment increase
Registration of own Trade Mark
Network formation
Production under its TM
Active growth
Integrated Electrification
Assortment update
Brand development
First participation in the exhibition Elcom 2017
Replenishment of the range with unique products
Year of unique positions
Development of the company
Cooperation
Electro House has been cooperating with companies from all over the world for many years. We will be very happy to start new business relations. So write to us on convenient messengers and join us on social networks
We are always open to cooperation!